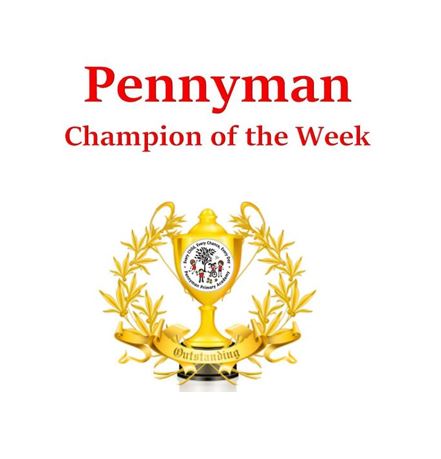 Mrs Coates Y6 – Owen For having a positive attitude to all lessons this week
Miss Marsden Y6 – Lexi For completing every piece of home learning, responding to feedback and never giving up. You are a home learning superstar!
Mrs Rossington Y5 – Oliver for working his little socks off since coming into the Academy. He has had a positive attitude towards all that has been asked of him and worked really hard in all task. He has had a huge smile on his face all week too.
Mr Walton Y5 – Isabelle For giving her absolute best this week: she has completed all her work to a high standard and has even read her feedback carefully and sent in thoughtful corrections and improvements when called for.
Mrs Newbold UKS2 SEND
– Harvey For being so helpful and trying hard
– Chloe For effort at home and mum's amazing dancing!
Mr Mount Y4 – Daisy For the hard work and humour she has thrown into every task this week!
Miss Stinson Y4 – Seth For putting so much effort into writing a myth. He included fantastic ideas and excellent vocabulary choices.
Mrs Plews Y3 – Theo For his excellent attitude towards all lessons and making people laugh ALL the time.
Miss Baxter Y3 – Alice For going above and beyond with her work at home. Well done!
Mrs Hutchinson LKS2 SEND
-Olga For trying so hard in Maths to learn how to divide by 2
-Sean For starting to engage with online learning
Mrs Micklewright Y2 – Olivia For having a consistent positive attitude to her learning every day.
Miss Carter Y2 – Lillie-Jo For fantastic co-ordinates work in Geography.
Mrs Potter Y1 – Oliver For completing some great pieces of work at home this week. You have been keeping Mrs Douglas very busy!
Mrs Douglas Y1- Ralphie For settling back into the classroom and completing all tasks really well.
Miss Gates KS1 SEND
-Maggie For enthusiasm and effort in all activities all week.
– Charlie For another great effort with home learning.
Mrs Place Reception – Junior For trying super hard with his phonics this week and for making some amazing robots from kids knex.
Miss Ritchie Reception – Ollie For trying hard with his home learning this week.
Miss Mason Nursery AM – Hughie For an outstanding drawing of Spiderman and for making the adults smile.
Miss Mason Nursery PM – Vivienne For being a lovely friend to all of the children.
Mr Blackburn EYFS SEND
-Abdul-Sami For great listening, joining in and interacting well with other children.
– Oscar For excellent work on Seesaw and trying really hard.
– Lilly C For amazing participation on Seesaw.
We are proud of you!