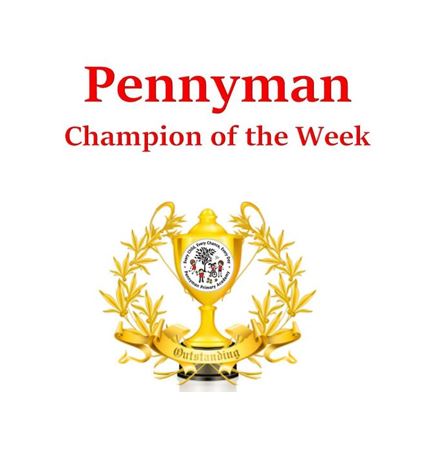 Well done to all our Pennyman Champions this week!
Mrs Stogdale – Jessica O Y6 For being extremely polite and well mannered. You always make me smile!
Mr Leonard Y6 – Lexi-Mai J For putting incredible effort into her online learning on Seesaw and completing all tasks set!
Miss Marsden Y6 – Chloe M For showing resilience and continuing to work hard, despite being in isolation! You are an excellent role model!
Mrs Rossington Y5- Poppy F For resilience and determination when participating in her learning.
Mr Walton Y5 – Alfie R For resilience and determination when participating in his learning.
Miss Cummins – Jorjia M Trying hard with her work all week.
Mrs Newbold UKS2 SEND – Gabriel F For working so hard on his independent writing.
Mr Mount Y4 – Lily A For engagement in online learning.
Miss Tate Y4 – Amelia W For engagement in online learning.
Mrs Plews Y3 – Riley G For being enthusiastic about the school day every day.
Miss Baxter Y3 – Harrison YB For persevering with the bus stop method this week in maths.
Mrs Hutchinson LKS2 SEND – Scarlet L For consistent positive attitude to all work.
Mrs Clement Y2 – Alex C – For his positive attitude and good work ethic throughout the tests this week.
Mrs Dunn Y2 – Oliver R For wonderful singing in our assemblies and practise for the end of year show.
Mrs Potter Y1 – Sonny S For wonderful work in all subjects this week.
Mrs Douglas Y1 – Delsie O'K For amazing independent writing this week. Well done!
Miss Gates KS1 SEND – Alfie B-L For super progress with writing.
Mrs Place Reception – Paisley M For trying hard with her writing this week!
Miss Ritchie Reception – Heidi C For using technology to create an amazing Mondrian artwork!
Miss Mason Nursery – Lyla Belle B For always having an amazing attitude and trying her best.
Mr Blackburn EYFS SEND – Ollie O For helping his friends all week.
We are proud of you!