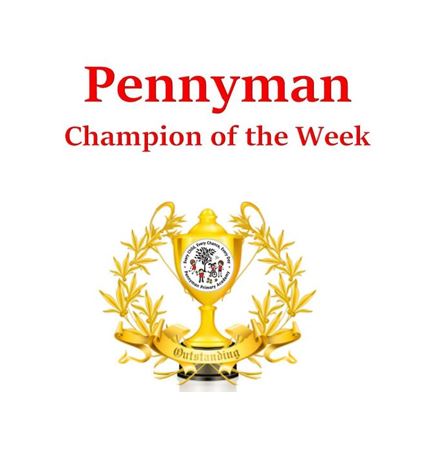 Mrs Stogdale – Elliot N, Y6 – For asking me every single day how I am and if there is anything he can do to help me.
Mrs Hanger – Oscar H – For being curious, trying and eating lots of new foods at dinner time. Well done Oscar and keep it up.
Mr Leonard Y6 – Leon F – For fantastic work this week.
Miss Marsden Y6 – Lucien L – For asking some incredibly interesting questions during our session on resilience.
Mrs Rossington Y5 – Kaitlyn M For an all-round excellent attitude.
Miss Cummins Y5 – Evie M Being fantastic work this week.
Mr Walton Y5 – Mia P Trying hard to improve her behaviour.
Mrs Newbold UKS2 SEND – Harvey L For fantastic spelling.
Mr Mount Y4 – Rahim N – For consistently working hard and making great progress.
Miss Tate Y4 – Darcy L – For working hard and solving reasoning questions in maths.
Mrs Plews Y3 – Alex W For staying level headed and cheery during a challenging week.
Miss Baxter Y3 – Jessica C – Trying her best this week and having an infectious smile.
Mrs Hutchinson LKS2 SEND – Zaki E For improved attention and focus with work.
Mrs Clement Y2 – Grace R For amazing effort and improvement in writing.
Mrs Dunn Y2 – John T For great reading and writing this week in English and Curriculum.
Mrs Jones Y2 – Frankie F For a fantastic comic strip.
Mrs Potter Y1 – Caitlin C For an outstanding reading age score. Well done Caitlin!
Mrs Douglas Y1 – Kaloyan C For settling in so well to Pennyman. You are a superstar!
Miss Gates KS1 SEND – Alex L For making progress with eye contact and social communication.
Mrs Place Reception – Jacob R For slowing down his speech and holding a sentence in his head.
Miss Ritchie Reception – Savannah C For persevering with her creative work this week. Well done!
Miss Mason Nursery – Martha H For amazing work this week.
Mr Blackburn EYFS SEND – Rania H For excellent eating at dinner time.
We are proud of you!