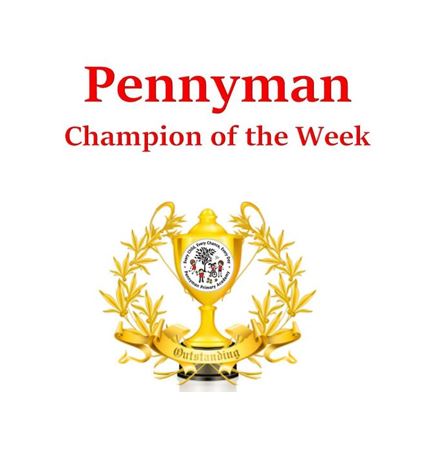 Well done to all our Pennyman Champions this week!
Miss Marsden Y6 – Liam K For excellent project management and presentation skills during our science project. You were fantastic!
Mrs Rossington Y5 – Leo T For returning to school with a positive attitude towards his learning.
Mrs Newbold UKS2 SEND – Ansa N For being a Pennyman superstar al week.
Mr Mount Y4 – Lilly B For completing online learning and trying hard.
Miss Tate Y4 – Eliza E For always working hard and trying hard with online learning tasks.
Mrs Plews Y3 – Lincoln For participating in all lessons with super answers and then transferring this to his work.
Miss Baxter Y3 – Ruby C For putting her all into every lesson and always being the best she can be.
Mrs Clement Y2- David D For his amazing inference and deduction skills in reading this week.
Mrs Dunn Y2 – Laiton S For going above and beyond with his home reading!
Mrs Jones Y2 – Oliver R For being a mathematical superstar!
Mrs Potter Y1 – Caitlin C For always trying her very best!
Mrs Douglas Y1 – Nevaeh R For always trying her best and putting a smile on her teacher's faces.
Miss Gates KS1 SEND Charlie H – For being a fantastic role model by always working hard, following routines & being a great friend.
Mr Blackburn EYFS SEND – Noah W For kind behaviour and sharing all week.
We are proud of you!