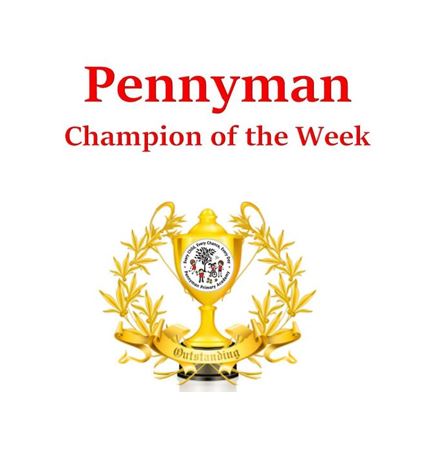 Mrs Stogdale – Ned G Y6 For being a fantastic all round Pennyman Citizen all week, especially in the dinner hall.
Mr Leonard Y6 – Owen C For improving his focus at all times this week in English. Keep up the great effort!
Miss Marsden Y6 – Faith For having an 'I can do it' attitude! I am really proud of you!
Mrs Newbold UKS2 SEND – Logan O Brilliant work during English – writing limericks, and answering tricky questions in a reading comprehension!
Mr Mount Y4 – Ayesha B For superb work in English all week. You planned a fab persuasive text, and tried hard in reading!
Miss Tate Y4 – Mia P For her superb attitude to writing this week, you have planned a fantastic persuasive text!
Mrs Jones Y4 – Mia Li For her perseverance, never giving up on any challenges she has been set all week!
Mrs Plews Y3 – Tyler M For an improved attitude towards learning.
Miss Baxter Y3 – Isaac F For his enthusiasm towards his learning in all subjects.
Mrs Hutchinson LKS2 SEND – Sean F Brilliant English work. Super sentences with correct punctuation and lovely vocabulary.
Mrs Clement Y2 – Isla B For always working hard in everything.
Mrs Dunn Y2 – Rachel H For amazing hard work and effort all week.
Mrs Potter Y1 – Junior P For writing a great set of instructions with confidence.
Mrs Douglas Y1 – Lolah W For being a really kind and caring member of our year group.
Miss Gates KS1 SEND – Ivy M For excellent progress with reading and writing.
Mrs Place Reception – Luca C For a much better week and improved behaviour.
Miss Ritchie Reception – Heidi D For trying hard to follow the rules this week.
Miss Mason Nursery AM – Aria S For amazing maths work this week.
Miss Mason Nursery PM – Vivienne L For being an outstanding pupil.
Mr Blackburn EYFS SEND – Katie W For being very helpful and looking after her classmates. We are proud of you!