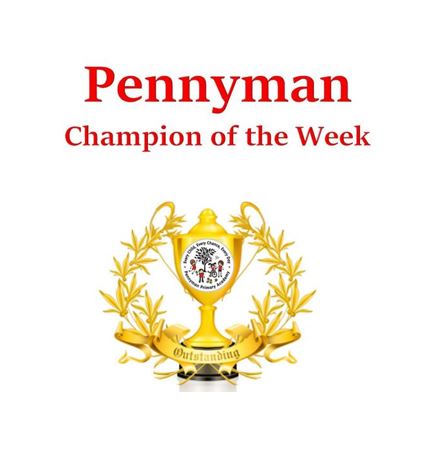 Well done to all our Pennyman Champions this week!
Mrs Rossington Y5 – Daniel L For a brilliant week of amazing learning, and many more weeks of just that.
Mr Walton Y5 – Ava M For showing true commitment to learning by returning to school on the same day she fractured her arm.
Miss Cummins Y5 – Paul N For his lovely writing and effort in all lessons this week.
Mrs Newbold UKS2 SEND – Byron S For incredible improvisation in drama club, and outstanding vocabulary in reading comprehension.
Mr Mount Y4 – Teri B For excellent work and attitude in afternoon lessons all week!
Miss Tate Y4 – Lily Mc For her engagement and excitement in all curriculum sessions.
Mrs Plews Y3 – Jensen M For an amazing piece of curriculum writing. You are becoming an excellent author!
Miss Baxter Y3 – Tyler F For an outstanding effort in all of his lessons. Keep it up!
Mrs Hutchinson LKS2 SEND – Oliver K For amazing Mental Maths!!
Miss Carter Y2 – Lacey M For fantastic effort and hard work.
Mrs Dunn Y2 – Emre S For fantastic effort and hard work this week and a brilliant piece of writing.
Mrs Potter Y1 – Jake F Wonderful sentence writing with finger spaces. Well done!
Mrs Douglas Y1 – Ralphie H A brilliant postcard and wonderful work all week! Well done Ralphie!
Miss Gates KS1 SEND – Maggie M For super progress with phonics; building and sounding out words.
Miss Ritchie Reception – Jack S For an amazing piece of independent writing.
Miss Mason Nursery AM – Jack W For amazing work this week.
Miss Mason Nursery PM – Deacon M For settling into nursery and coming in with a big smile.
Mr Blackburn EYFS SEND – Haniya A Really great use of her voice all week.
We are proud of you!