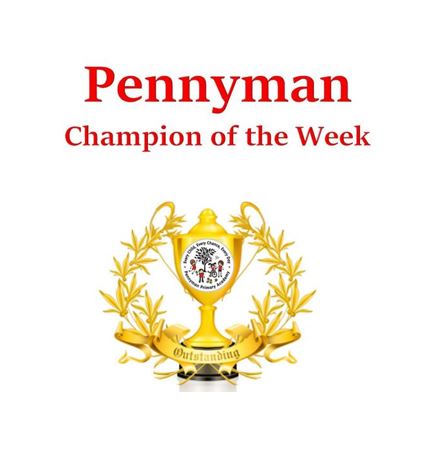 Well done to all our Pennyman Champions this week!
Mr Leonard Y6 – Azaan R For showing an unflappable nature during assessment week and always trying his best.
Miss Marsden Y6 – Lola M For trying really hard to make the right choices this week.
Mrs Rossington Y5 – Oliver H For amazing effort, hard work and resilience.
Mr Walton Y5 – Gracie H For amazing hard work in Maths
Mrs Newbold UKS2 SEND – McKenzie M For extra effort in all his learning and amazing ideas in thinking time.
Mr Mount Y4 – Scarlett W For fantastic history writing in curriculum.
Mrs Jones Y4 – Taliah T For continuing her meditation and yoga learning at home.
Miss Tate Y4 – Kacey-May T For amazing fantasy story.
Mrs Plews Y3 – William G For always trying to challenge himself to be better.
Miss Baxter Y3 – Jacob M For trying to be an independent learner.
Mrs Hutchinson LKS2 SEND – Olga D For being amazing in everything this week.
Mrs Clement Y2 – Liam S For fantastic effort and progress in reading and writing.
Mrs Dunn Y2 – Frankie P For brilliant work in reading and writing this week. Well done and keep it up!
Mrs Potter Y1 – Alleyah B For fantastic sentences this week! Well done!
Mrs Douglas Y1 – Phoebe R For trying so hard all week. Well done Phoebe!
Miss Gates KS1 SEND – Alfie B For great progress with speaking, listening, reading and writing.
Mrs Place Reception – Larrissa M For trying hard with her presentation this week.
Miss Ritchie Reception – Jack S For improved handwriting.
Miss Mason Nursery AM – Ralphy H For coming to nursery all week with a big smile.
Miss Mason Nursery PM – Aria S For always being very sensible and try her best.
Mr Blackburn EYFS SEND – Katie W Being helpful and looking after her friends.
We are proud of you!