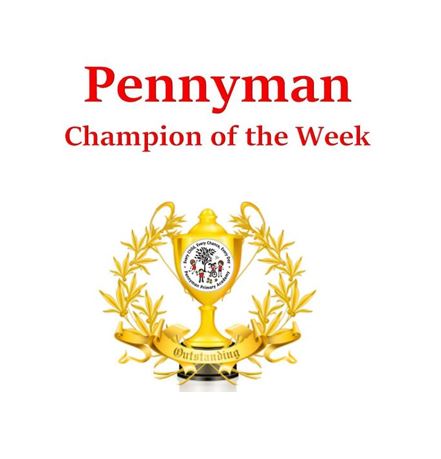 Well done to all our Pennyman Champions this week!
Mrs Coates Y6 – George For having a fantastic attitude towards all of his work at home this half term. We are all incredibly proud of you!
Miss Marsden Y6 – William For having an amazing attitude towards all his learning!
Mrs Rossington Y5 – Blake For a super attitude towards completing all tasks even when they are challenging.
Mr Walton Y5 – Maizie For such an enthusiastic and creative approach to drafting and editing her fairy tale.
Mrs Newbold UKS2 SEND
– Logan For embracing learning in the classroom – first week back.
– Harry For consistent and enthusiastic home learning.
Mr Mount Y4 – Annie For her fantastic reading skills, fluent and very expressive! A new video every day, and almost enough to make me like Mr Walliams!
Miss Stinson Y4 – Ayesha For being kind, patient and helpful when helping others to play chess. You would make a wonderful teacher!
Mrs Plews Y3 – Isaac For his positive attitude towards his home learning. Completing tasks to the expected standard and always using his marvellous manners each day.
Miss Baxter Y3 – Mercy For trying hard to be more independent with her reading. Keep it up!
Mrs Hutchinson LKS2 SEND
– Zahra For giving 100% to her learning this week.
– Oliver For consistent and enthusiastic home learning.
Mrs Micklewright Y2 – Frankie For accurate reading answers and fantastic fact sentences.
Miss Carter Y2 – Emre For fantastic engagement and hard work on Seesaw with all of his learning. Well done Emre!
Mrs Potter Y1 – Dawson For a fantastic attitude to his learning this week in school. Well done Dawson!
Mrs Douglas Y1 – Ashton For super engagement on seesaw all week. Keep it up Ashton!
Miss Gates KS1 SEND
-Alex For excellent work in music.
– Charlie For excellent work on all the Seesaw activities.
Mrs Place Reception – Malaki For good progress with his talking and concentration span this week.
Miss Ritchie Reception – Harley For working hard on his reading at home.
Miss Mason Nursery AM – Dexter For working very hard and making some amazing models in the construction area.
Miss Mason Nursery PM – Lilly For working hard this week.
Mr Blackburn EYFS SEND
– Ollie For great writing.
– Isaac and Ismail For brilliant work all week.
Mrs McInnes EYFS SEND Nursery – Haniya For great cooking at home.
We are proud of you!