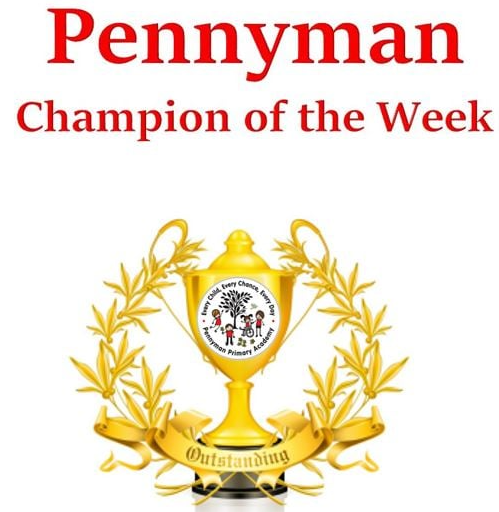 Well done to all our champions this week.
Mrs Coates Y6 – Faith For producing some outstanding pieces of written work during the home learning period. We are SO impressed!
Miss Marsden Y6 – Jesse For an enthusiastic attitude towards everything and everyone. What a kind person you are!
Mrs Rossington Y5 – Riley For having an amazing attitude towards his home learning and he always responds to feedback. Even though he is working from home, he is working like a true Pennyman Champion and we are very proud of you.
Mr Walton Y5 – Ethan For learning to be a little more open-minded: in maths in which he's worked with me to see how to improve, in writing, where he has been inspired by poetry to work more independently and in RE in which he's learnt to understand other people's beliefs.
Mrs Newbold UKS2 SEND
– Hayley For enthusiastic work and "workouts" at home!
– Hamza For embracing this week's spotlight by working independently.
Mr Mount Y4 – Eliza For her amazing writing all week – from descriptive similes to beautiful scenes, you have worked so hard this week!
Miss Stinson Y4 – Lily For writing an AMAZING opening for a Greek myth this week! You included so many elements of suspense and effectively showed your character's emotions.
Mrs Plews Y3 – Jensen For showcasing his many talents while learning at home. These include: Chef, marine biologist and mathematician.
Miss Baxter Y3 – Layla For being an amazing friend to the children in her bubble and a delight to teach.
Mrs Hutchinson LKS2 SEND
– Sienna For 100% effort with all Home tasks and beautiful handwriting.
– Cobie For 100% effort and marvellous enthusiasm.
Mrs Clement Y2 – Maddie For fantastic effort and commitment to completing all of your home learning.
Mrs Micklewright Y2 – Imarni For making everyone smile with her reading and handwriting.
Mrs Potter Y1 – Finley For going above and beyond with his learning at home this week. You have completed so many jobs. Well done!
Mrs Douglas Y1 – Coby For settling back into the classroom and producing some great work this week!
Mrs Place Reception – Troy For consistently working super hard every day on Seesaw, completing lots of activities.
Miss Ritchie Reception – Willow For not giving up and trying very hard with addition and subtraction on a number line.
Miss Mason Nursery AM – Frankie For amazing work and bravery this week.
Miss Mason Nursery PM – Cole For working very hard at home.
Mr Blackburn EYFS SEND
– Alex For trying really hard with work
– Charlie For an excellent effort with your Home Learning this week. Well done!
– Jax For great work with colours.
We are proud of you!