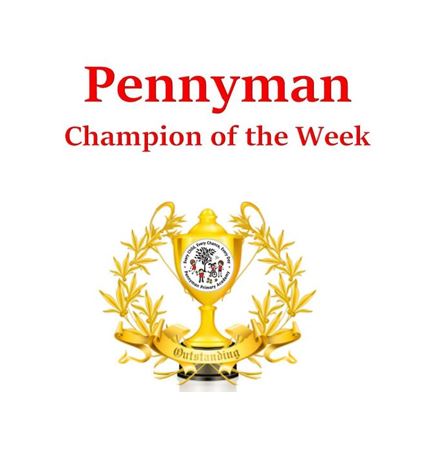 Well done to all our champions this week.
Mrs Fawcett – Mgeni M For beautiful manners in the dining hall every day.
Mrs Coupe – Olivia K For being an outstanding Pennyman citizen in every way.
Mr Hunter – Sean F For being an absolute joy around school and always having a huge smile on his face.
Mrs Arkle – Maggie M For being so caring and asking if I felt better on returning to school.
Mrs Coates Y6 – Anderson I For working incredibly hard this half term and making outstanding progress in reading and maths.
Miss Marsden Y6 – Leon J For working incredibly hard in everything we have done this week!
Mrs Rossington Y5 – Alisia O For an improved attitude to reading in school and at home.
Mr Walton Y5 – Ethan W For putting a great deal of effort into his writing, morning and afternoon!
Mrs Newbold UKS2 SEND – Gabriel F For amazing reading in school and at home, and incredible progress with his writing.
Mr Mount Y4 – Mia L For working hard on her confidence all week! Keep it up!
Miss Stinson Y4 – Daisy R For working incredibly hard during all of her assessments.
Mrs Plews Y3 – Jensen M For being supportive of all children in his year group and praising them whenever he can. You are a true inspiration.
Miss Baxter Y3 – Poppy W For being brave and an increased confidence in sharing her ideas with the class.
Mrs Hutchinson LKS2 SEND – Scarlet L For amazing Writing!
Mrs Clement Y2 – Hugo L – For amazing all round effort and hard work in all your lessons.
Miss Carter Y2 – Henson C For amazing maths and phonics.
Mrs Potter Y1 – Lexie B For writing a sentence independently. Well done!
Mrs Douglas Y1 – Maddie P For being a superb role model to everyone at Pennyman. She is a superstar!
Mrs Brooks KS1 SEND – Maggie M For developing independence skills in using the bathroom.
Mrs Place Reception – Troy W For trying hard with his writing this week and being more independent.
Miss Ritchie Reception – Heidi C For an improved attitude to learning and for wanting to please in everything she does.
Miss Mason Nursery AM – Layla J For working hard whilst isolating.
Miss Mason Nursery PM – Deliylah G For working hard whilst isolating.
Mr Blackburn EYFS SEND – Haniya A For trying really hard to use words all week.
We are proud of you!