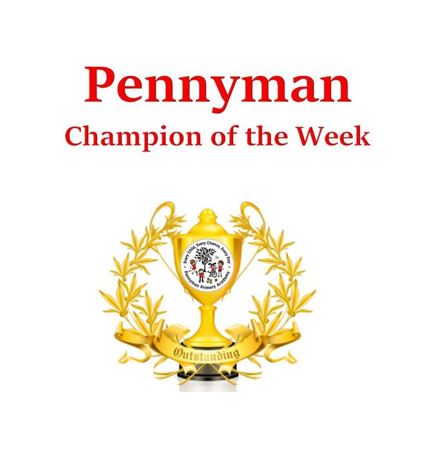 Well done to all our champions this week.
Mrs Fawcett – Layla H For being an amazing Pennyman citizen and learner.
Mrs Coupe – Lewis B For his abundance of knowledge on the Egyptians.
Mr Hunter – Lilly W For being so resilient and brave and not letting her worries stop her learning. You superstar!
Mrs Arkle – Abdul-Sami H For being more confident and using wonderful manners in the lunch hall.
Mrs Coates Y6 – Freddie P For outstanding effort in maths this week when learning how to do long division
Miss Marsden Y6 – Elliott N For a fantastic attitude to all his learning!
Mrs Rossington Y5 – Kaitlyn M Her enthusiasm, positivity and smile she shares all day, every day
Mr Walton Y5 – Amelia B Doing everything with 100% effort and a positive attitude.
Mrs Newbold UKS2 SEND – Chloe A For commitment, enthusiasm, resilience and effort with all her learning and being so kind to everyone.
Mr Mount Y4 – Lewis L For his dedication to creating the perfect pizza!
Miss Stinson Y4 – Rubie W For exceptional manners and working so hard. You are a pleasure to teach!
Mrs Plews Y3 – Summer H For her infectious smile and producing a brilliant start to her adventure story.
Miss Baxter Y3 – Elyse I For her brilliant attitude towards the Year3 curriculum while using her marvellous manners.
Mrs Hutchinson LKS2 SEND – Olga D For completing activities on Seesaw and huge improvement in letter formation!
Mrs Clement Y2 – Reece B For his amazing hard work and attitude!
Miss Carter Y2 – Liddy M For amazing phonics! Well done!
Mrs Potter Y1 – Junior P – For being a superstar in everything he does especially his lovely artwork this week.
Mrs Douglas Y1 – Delsie O For trying so hard to improve her writing.
Mrs Brooks KS1 SEND – Alfie B Super work all week in every lesson.
Mrs Place Reception – Jack O For excellent listening skills and showing an interest in our land art.
Miss Ritchie Reception – Kelsey F For sharing her smile often and being a pleasure to teach.
Miss Mason Nursery AM – Dexter T For trying hard at school and at home.
Miss Mason Nursery PM – Nico T For always being ready to learn.
Mr Blackburn EYFS SEND Rania H For an amazing week. Well done!
We are proud of you!