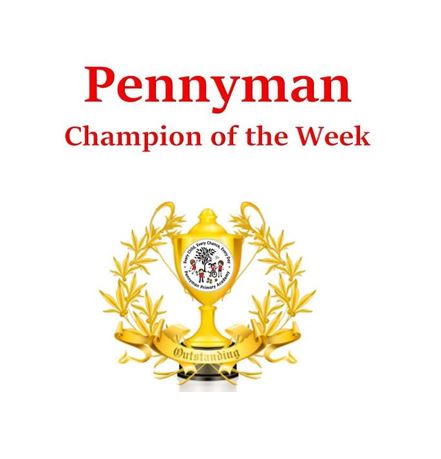 Well done to all our champions this week.
Mrs Fawcett – Mr Postgate For being a brilliant caretaker. We will all miss, "There will be a fire alarm test at 4.30!" Happy Retirement.

Mrs Coupe – Finley F For always using impeccable manners and giving lovely compliments! Thank you.

Mr Hunter – Francis B For being resilient and showing great problem solving skills during his learning this week.

Mrs Arkle – Ansa N For supporting her friends with disagreements. You are so kind and caring.

Mrs Coates Y6 – Chloe M & Mum For truly embracing home learning! I am so incredibly proud of all of the work Chloe has done this week! You are both superstars!

Miss Marsden Y6 – George O For working consistently hard and not letting isolating at home stand in his way! We are all very proud of you!

Mrs Rossington Y5 – Olivia K For improvement in writing and constant strive to improve.

Mr Walton Y5 – Mia P For huge improvement in handwriting and getting a pen licence.

Mrs Newbold UKS2 SEND – Charlie O For adopting a sensible attitude to all areas of his learning, and for always trying his best.

Mr Mount Y4 – Paige F For superb commitment to home learning this week.

Miss Stinson Y4 – Lily-Mae F For an outstanding effort completing her home learning. She has read, made things, completed English tasks and maths activities. Amazing work!

Mrs Plews Y3 – Theo M For his enthusiasm and hard work in all lessons. We are all so proud of you.

Miss Baxter Y3 – Taylor B For an incredible week of working hard, showing enthusiasm for his learning and for ALWAYS making his teachers smile.

Mrs Hutchinson LKS2 SEND – Sukhmani S For a huge effort at improving listening skills and remembering to not interrupt!

Mrs Clement Y2 – Noah D For truly amazing Maths! Well done!

Miss Carter Y2 – Oliver R For super maths this week and not being afraid to give it a go when it was hard.

Mrs Rix Y1 – William J For always trying his very best in all areas and brightening up our room with his gorgeous smile!

Mrs Douglas Y1 – Lilly W For using her independent writing skills in her curriculum work. Well done!

Mrs Brooks KS1 SEND – Alex L For having a lovely week and being super brave.

Mrs Place Reception – Eva L For being a very busy bee on seesaw producing lovely work.

Miss Ritchy Reception – Logan W For completing lots of learning at home this week.

Miss Mason Nursery AM – Mason H For always trying his best.

Miss Mason Nursery PM – Leo D For an improved attitude.

Mr Blackburn EYFS SEND – Haniya A For great work in phonics.

We are proud of you!