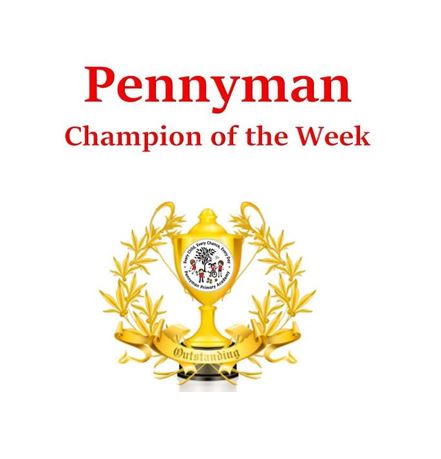 Well done to all our champions this week.
Mrs Fawcett – Poppy F, Y5 For making amazing progress with her English work. I enjoyed looking at Poppy's books yesterday.

Mrs Coupe – Leon J Y6 For his unbelievable achievement in maths this week.

Mr Hunter – Reuben T Y1 For being an absolute delight and working so hard with all of his work.

Mrs Arkle – Tyler M Y6 For a positive attitude around the academy and excellent road safety

Mrs Coates Y6 – Lucien L For writing an amazing time slip story in English – your creative ideas have blown me away!

Miss Marsden Y6 – Alisha F For working so hard in all her lessons this week

Mrs Rossington Y5 – Jacob D For always working hard and being a perfect Pennyman role model.

Mr Walton Y5 – Libby H For her willingness to work hard at tricky things, but always remaining positive.

Mrs Newbold UKS2 SEND – Hamza I For trying his very best all week at school, reading at home, and doing extra homework!

Mr Mount Y4 – Ellie P For being a fantastic helper to the whole class in art!

Miss Stinson Y4 – Taliah T For putting so much effort into every piece of work and having an amazing attitude towards learning.

Mrs Plews Y3 – Freya H For working on her own in ALL lessons and not being afraid to have a go even if she is unsure of the answer.

Miss Baxter Y3 – Elyse I For having an 'I can do it' attitude and never giving up. Keep it up!

Mrs Hutchinson LKS2 SEND – Shayan M For fantastic effort with speaking and writing all week. For using 'I' instead of 'Me'!

Mrs Clement Y2 – Sonny D For amazing reading and writing. Well done!

Miss Carter Y2 – Esmae J For always being an outstanding role model for Y2. Well done!

Mrs Rix Y1 – Jake F For working really hard with blending sounds and reading sentences.

Mrs Douglas Y1 – Ashton W For always trying his very best and being the perfect Pennyman citizen.

Mrs Brooks KS1 SEND – Ivy M For super Number matching.

Mrs Place Reception – Vienna S For trying super hard with her talking and new vocabulary.

Miss Ritchie Reception – Harley K For trying hard at home and in school to learn his numbers.

Miss Mason Nursery AM – Denley M For always being an amazing friend.

Miss Mason Nursery PM – Kalice T For settling into nursery and working hard in Blast.

Mr Blackburn EYFS SEND – Issac G For great handwriting.

We are proud of you all!