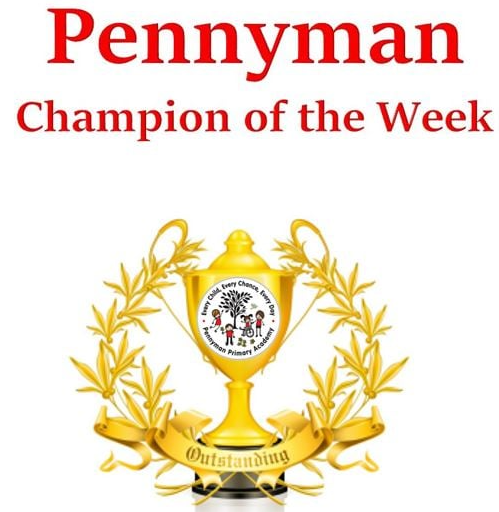 Well done to all our champions this week.
Mr Hunter – Dawson W For an incredible effort with his home learning this week. Keep up the hard work Dawson.
Mrs Coates Y6 – Alisha F For the amazing effort she has put into all of her lessons this week, especially when writing her report on flying squirrels.
Miss Marsden Y6 – Leon F For working incredibly hard at home. It has been an absolute pleasure to receive all your work on Seesaw this week.
Mrs Rossington Y5 – Alfie R For an enthusiastic approach to all of his learning this week in school.
Mr Walton Y5 – Alfie M For the superb amount of thought and effort he puts into all his home learning, especially some very full answers in his reading comprehension.
Mrs Newbold UKS2 SEND – Logan O For always trying his best and uploading his work each day on SeeSaw.
Mr Mount Y4 – Mia L For writing a beautiful poem this week, considering her rhyme scheme and vocabulary perfectly!
Miss Stinson Y4 – Harry D For his incredible online learning efforts and completing all his work on Seesaw.
Mrs Plews Y3 – Freya H For doing the right thing all of the time and making the most of the opportunities presented to her.
Miss Baxter Y3 – Jake C For independently getting on with his work at home and a fantastic report on why dinosaurs are now extinct. Keep up the hard work!
Mrs Hutchinson LKS2 SEND – Cobie M For positive, happy attitude to school work and amazing subtraction work!
Mrs Clement Y2 – Liddy M For hard work, effort and beautiful presentation in all her work this week.
Miss Micklewright Y2 – Lydia Q For her positive and enthusiastic approach to home learning.
Mrs Potter Y1 – Reuben T For talking more about his work and engaging in activities in school this week.
Mrs Douglas Y1 – Ralphie H For completing tasks and sharing lots of learning from home this week.
Miss Gates KS1 SEND – Alfie B For completing so much of your Home Learning Pack as well as all of your activities in school. What a star! Also Luca S For a super effort at completing your home learning this week!
Mrs Place Reception – Willow D For 100% effort in everything she has done this week.
Miss Ritchie Reception – Eva L For trying super hard this week and completing lots of fantastic activities on Seesaw.
Miss Mason Nursery AM – Jessica C For outstanding work at home.
Miss Mason Nursery PM – Felicity R For impressing everyone with her fantastic attitude and name writing.
Mr Blackburn EYFS SEND – Olly C For excellent listening and joining in with new activities and routines. Also Haniya A For great shape hunting and joining in with songs.
We are proud of you!