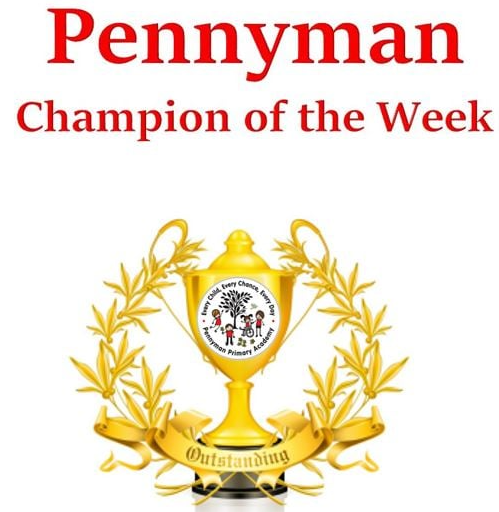 Well done to all our champions this week.
Mrs Arkle – Phoebe F For being so welcoming and kind to other children in her bubble.
Mrs Coates Y6 – Lucien L For fantastic effort and resilience when learning from home.
Miss Marsden Y6 – Liam K For being a shining example of a true Pennyman citizen all week!
Mrs Rossington Y5 – Lewis B For completing all tasks to the highest of his ability and responding to feedback when learning from home. A true superstar!
Mr Walton Y5 – Alisia O For her 'can do' approach to catching up and asking the right questions after joining the key worker group part-way through the week.
Mrs Newbold UKS2 SEND – Harry P For amazing online work, especially reading. Zahra N For learning to to write her 9s and 7s, and then teaching it to one of her peers!
Mr Mount Y4 – Lily A For trying hard with her home learning tasks and challenging herself to complete lots of Seesaw activities!
Miss Stinson Y4 – Darcey L For amazing work at school this week. He puts 100% into everything he does.
Mrs Plews Y3 – Owen For his brilliant approach to producing high quality work at home. His research into the bridges along the River Tees was amazing!
Miss Baxter Y3 – Theo M For making the most of being in school with his super learning attitude.
Mrs Hutchinson LKS2 SEND – Oliver K For amazing efforts in all pieces.
Mrs Clement Y2 – Jack W For his commitment and effort in all his home learning.
Mrs Micklewright Y2 – Ivy S For her continued effort in her handwriting in all activities.
Mrs Potter Y1 – Presley C For great home learning this week and for coming up with his own super ideas to complete tasks.
Mrs Douglas Y1 – Bobby E For completing his year 1 tasks and extra activities too! You are a home learning superstar!
Mrs Place Reception – Harry S For completing lots of home learning each day this week.
Miss Ritchie Reception – Alyiza For always doing the right thing.
Miss Mason Nursery AM – Denearys T For working so hard in her first week at nursery
Miss Mason Nursery PM – Alfie C For amazing work at home this week.
We are proud of you!