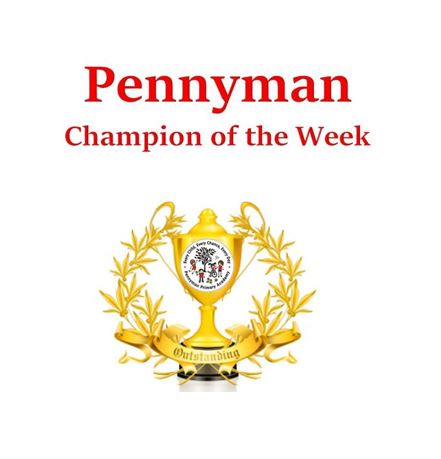 Well done to all our champions this week.
Mrs Coates Y6 – Alex M For a fantastic attitude towards his work this week and writing a brilliant postcard from a very unhappy piece of stationery!
Mrs Rossington Y5 – Jessica O For an excellent attitude towards all work and for going home to do extra work on Seesaw after working in school all day!
Mr Walton Y5 – Romie G For engaging so well in our first online challenges at home. Some fantastic work produced and responded to feedback.
Mr Mount Y4 – Rebecca H For a focused, hardworking approach to all the work she has undertaken in school this week! We are very proud of you!
Miss Stinson Y4 – Lily M For a fantastic start to her online learning this week and having a go at all of the activities set.
Mrs Plews Y3 – Lateya J For her can do attitude towards all tasks and challenging her mathematical ability. Well Done!
Miss Baxter Y3 – Alice M For even being able to show her love of learning from home!
Mrs Hutchinson/Mrs Newbold KS2 SEND – Harvey L For completing all work with a positive attitude and being very helpful to staff and children.
Mrs Clement Y2 – Noah D For all his hard work and resilience this week along with his fantastic listening and learning behaviour.
Mrs Micklewright Y2 – Reece B For completing all his home learning activities on Seesaw and also responding to his marking. Well done!
Mrs Potter Y1 – Lorelle K For always having a smile on her face and cheering us up during these strange times.
Mrs Douglas Y1 – Maddie P For engaging so well with the activities on Seesaw. Super home learning. Well done Maddie!
Miss Gates/Mr Blackburn EYFS/KS1 SEND – Mason S For being so kind and helpful to other children, especially the younger children who have joined our class this week.
Mrs Place Reception – Phoebe F For being an amazing Pennyman Role model. She is always doing the right thing! Well done.
Miss Ritchie Reception – Arya P For engaging with online learning this week and completing some fantastic pieces of work!
Miss Mason Nursery AM – Hughie M For working very hard all week.Miss Mason
Nursery PM – Sienna W For always trying her best.
We are proud of you!
Mrs Stogdale's Staff Champion of the Week – All the Pennyman team for their resilience this week and amazing hard work supporting our children both in the academy and at home during this challenging time. Thank you!