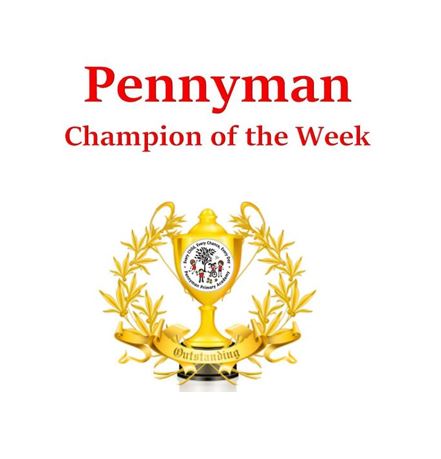 PENNYMAN CHAMPION ROLL OF HONOUR – Spring 2/Week 1
Well done to all our Pennyman Champions this week!

Mrs Coates Y6 – George For having a fantastic attitude, spreading positivity and coming to school with a smile.

Miss Marsden Y6 – Chloe For continuing to work incredibly hard during the home learning period. Your attitude towards your work has been fantastic throughout this difficult time.

Mrs Rossington Y5 – Isaac For showing determination and resilience in his learning and for being helpful to staff.

Mr Walton Y5 – Ava For getting creative with Art and with the presentation of her home learning, in ways that make it easy and fun to read and mark!

Mrs Newbold UKS2 SEND – Logan For persistence with challenging maths.- Ansa For fantastic work in all areas, especially Science and Music.

Mr Mount Y4 – Ollie For his fantastic contributions in class all week, you have been a real bright spark!

Miss Stinson Y4 – Annie For her wonderful reading videos that she uploads to Seesaw daily. You have brilliant expression and we really look forward to listening to them!

Mrs Plews Y3 – Louie For his amazing time work this week converting between analogue and digital time and for being a pleasure to have around school.

Miss Baxter Y3 – Alex For his excellent attitude towards his work and for completing his Junior Leadership team role from home. Mrs Hutchinson
LKS2 SEND -Sukhmani – For super hard efforts.- Olga For working as hard at home as at school, whilst isolating.

Mrs Micklewright Y2 – Lacey For or her growing confidence with online learning.

Miss Carter Y2 – Scarlett For fantastic effort with all of her learning. Well done!

Mrs Potter Y1 – Seren For wonderful work at home as always. You are a superstar!

Mrs Douglas Y1 – Shay For having a positive attitude to his learning this week. Well Done Shay, keep it up!

Miss Gates KS1 SEND – Alex For brilliant home learning.

Mrs Place Reception – Jacob For good sound work and writing this week.

Miss Ritchie Reception – Heidi For completing some fantastic pieces of paper based home learning this week.

Miss Mason Nursery AM – Hunter For coming back to nursery with a huge smile.

Miss Mason Nursery PM – Nico For his enthusiasm and attitude.

Mr Blackburn EYFS SEND – Rania For great home learning.

Mrs McInnes EYFS SEND Nurs – Olly For fantastic home learning.

We are proud of you!